Road Safety
Around Thurcroft Junior Academy, the roads can be very busy and it is important you understand how to stay safe.
Tip for parents/carers - One of the best ways to help children learn about staying safe is to talk to them when you're out and about. When you're with them and need to cross the road it is helpful to explain to them: why you're choosing a certain place to cross, why you're waiting, how many times you're looking left and right before crossing, why it's safe to cross the road – when you're crossing.
The Green Cross Code
The Green Cross Code is very important and tells us how to cross the road safely. You should always follow the steps below.
Think - Find a safe place to cross the road. Where possible cross at a zebra/pelican crossing, subway, foot bridge or traffic island. If this isn't possible, remember to cross where you can see in all directions and where drivers will see you.
Stop - Just before you get to the kerb, stop. Stand on the pavement near the kerb and make sure that you can see the traffic. DO NOT step on to the road.
Look and listen - Look all around you for traffic. Make sure that you listen carefully for traffic that you can't see. Check to your right-hand side first, then check to your left and then to your right again before you cross.
Wait - If you are waiting at a crossing then wait until the cars have stopped or the green man shows. If you are not at a crossing wait until it is safe to cross.
Look and listen again - Once the traffic has passed look around again and listen.
Cross safely - When it is safe and there is no traffic, walk straight across the road. Look and keep looking while you cross.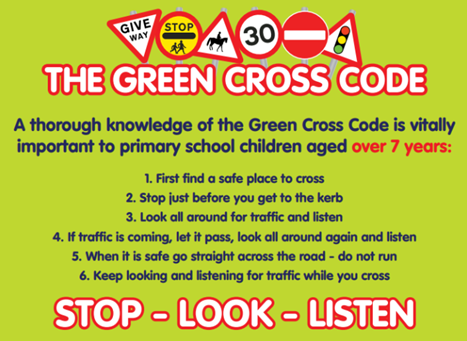 The Tales of the Road booklet, which can be downloaded below, shares more details of the Green Cross Code. You will also find advice on roller skating, cycling, road marking and much more.
These short videos include advise on how to stay safe when crossing the road and songs to help you remember the important steps!
Pupils in Year 3 and 4 took part in a road safety workshop led by an Active Travel professional, Laurie Butler. Pupils discussed and learned pedestrian safety in a practical setting, especially focusing on how to cross the road safely. In addition, they also:
Understand that pedestrians walk on the pavement and vehicles travel on the road
Know to walk with a grown up when walking near a road
Understand the Stop, Look, Listen and Think sequence
Understand how to use an assisted / designated crossing that's close to the school (if applicable)
Understand road signs associated with crossing the road
Understand and apply a set of instructions in real life situations
Y6 Crucial Crew
Each year, as part of preparing our Year 6 pupils for the next step in their education, they visit Crucial Crew. A big change for them may be travelling to their new school by bus each day. The Crucial Crew team teach them the skills they will need. The children learn; how to wait for a bus safely, how to stop a bus, to have their money ready to pay, why they should walk round the back of a bus when getting off, what to do in an emergency and why it's important not to distract the driver.
The pupils also recap road safety by acting out everyday situations such as using a zebra crossing and taking part in discussion including estimating how long it takes a car to stop when travelling at 30MPH.