Community Links
Easter Service
Just before the Easter holidays, all of the classes visit our local church. Reverend Miranda Hayes shared the Easter story and the origin of lots of our favourite Easter Traditions. As an academy, we held an annual Easter Egg Raffle – a huge thank you to all of the staff who donated treats – and all children took home a Cadbury's Crème Egg.
Coronation Competition
In March, our pupils took part in a National Project called 'Coronation Competition' in which they had to collaboratively create and illustration for some specially designed benches to mark the coronation of King Charles III. The winning schools will work with an artist to actually create their designs on the bench ready for the King's Coronation in May and then after the Coronation, the benches will be transported to the winning schools for them to keep forever. We have our fingers crossed!
University of Sheffield – STEM Project
In March, all of our pupils worked with several PHD students from Sheffield Hallam University to learn about microorganisms. As part of this, they even created their own artwork using micro-organisms from their own bodies – wow!
Visit from PC Robson
Our Y6s have been visited by PC Robson, who spoke to the about staying safe within our local community and surrounding areas. He focused on anti-social behaviour and social media.
Town Hall Visit
In March, our school councillors took part in a tour on the Town Hall and met the Lord Mayor Councillor. They asked lots of interesting questions about his job and were amazed to find out he works for King Charles!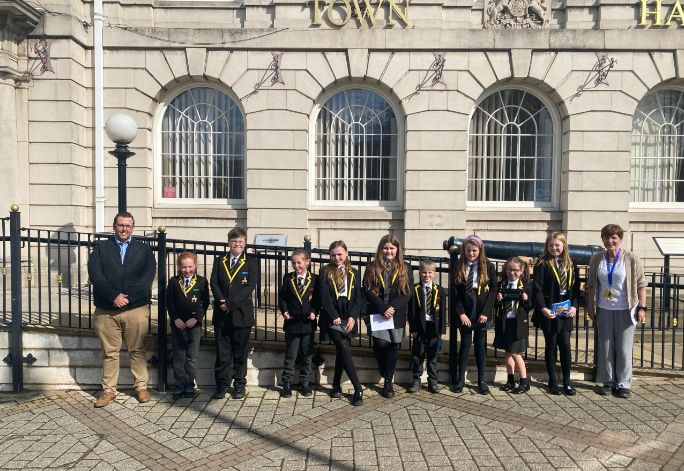 STEM Workshop – Flying High
This year, all of our pupils took part in a STEM day organised by 'Flying High'.
Need more!
Christmas Service
Just before the Christmas holidays, we were visited by Reverend Thomas and his puppet, whom all of children love. He spoke to us about the meaning of Christmas and our favourite traditions.
Councillor Collingham visited the School Council
Once our school council had been elected, they were lucky enough to be visited by our local councillor, Councillor Collingham. Pupils had the opportunity to ask him question about his job role and how he planned to help our community.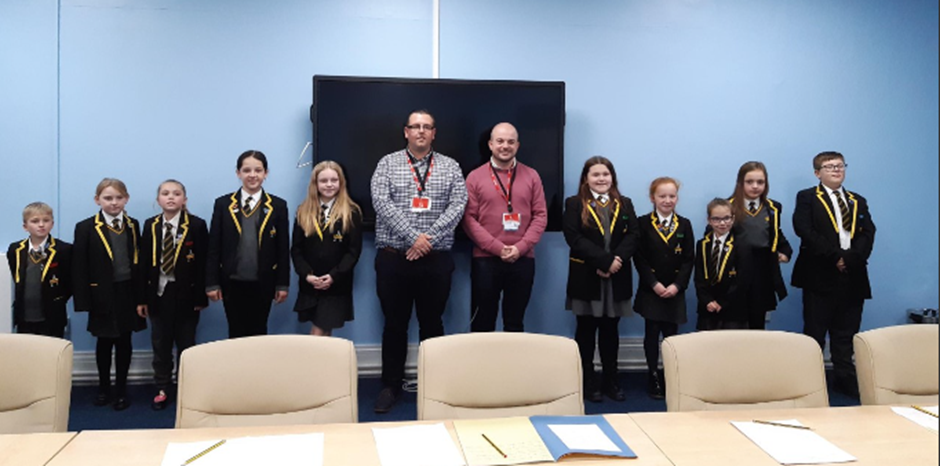 Community Christmas Card Competition
Our Parish Council invited all of our pupils to create a Christmas card design with the winner being chosen as the official Christmas card for Thurcroft Parish Council. Good luck everyone.
Harvest Festival
In October, we visited our local church to hold our Harvest celebration assemblies. Reverend Thomas spoke to the children about the meaning behind the festival and how we can support others. All of the food donated to the harvest festival was successfully delivered to our local food bank. Thank you for your amazing generosity.
Visit from Alexander Stafford
Our Year 6 cohort had a wonderful visit from our local MP, Alexander Stafford. He spoke to the children about democracy and they asked lots of interesting, insightful questions.
Y5 Farm Trip
Need more!
ROAR
ROAR (Rotherham Open Arts Renaissance) along with Thurcroft Creatives kindly offered and arrange for local artists to come into our school and complete workshops with our children.
Ask Charlotte for more information.
Thor the Thurcroft Troll
We were asked to be part of the 'Thor' project, which resulted in a sculpture being built in Thurcroft's park. Our Foundation children and our school councillors were invited to plant wild flowers around the sculpture in the park. Every child within school also took home their very own book about Thor and Thurcroft. At Thurcroft, we value the importance of learning the History of our local area.
Active Travel
Jim from Living Streets came into school to deliver some training for our WOW ambassadors to help increase the number of pupils who are making their way to school active. We also had a visit from Strider the WOW mascot where every pupil in school received a WOW badge.